Q&A: Bratcher House & Design founder Brooke Bratcher discusses ins and outs of inside design | Bakersfield Life
BL: How did Bratcher Home & Design begin?
BB: Bratcher Home & Design, formally known as Brooke Bratcher Design, started in the fall of 2014. I was a new mom to a handsome 3-month-old baby boy when unexpectedly someone reached out asking for design services to pull together their child's room. I was thrilled to take on the project and get back to designing spaces!
Considering the room was for a young child, the client wanted budget friendly options. So, with that being said, I quickly became known for my ability to achieve "the look for less." Word spread and all of a sudden one client turned into multiple clients all wanting the same concept. I was often spotted at Home Goods, Tuesday Morning, Target and Hobby Lobby, wearing my infant in his carrier on my chest, and one, if not two, shopping carts filled to the brim with affordable home decor.
As the years went on, I continued to grow my family and business simultaneously. In 2016, my husband, Kevin, and I welcomed our second child, a baby girl! At the same time, my business was evolving in a new direction, a direction I always anticipated. I officially gained access to designer product lines and began selling furniture, artwork, lighting, rugs, accessories and more! I slowly transitioned out of "the look for less." After selling quality home furnishings, I began to see financial success. Design time alone was more of a hobby, but mixing design time with retail sales, I personally noticed my hobby shifting into an interior design career.
In 2019, I decided to expand my business. Once working from home, in my car and out of my husband's extra warehouse, I decided it was time to open a showroom of my own. It would create official office hours, house all my custom design samples and allow clients and customers to shop my designer lines. Naturally, the decision to rebrand came to mind and after working with a local branding company, Bratcher Home & Design was established!
After months and months of planning, stressing and preparing, the showroom officially opened its doors in November 2019 in downtown Bakersfield at 1219 18th St. This accomplishment was a dream come true!

Photo by Jvarnerphoto

BL: How did you become interested in interior design?
BB: Being creative was something that always brought me joy. I enjoyed all types of creativity, especially photography and scrapbooking. I remember helping with the school yearbook in junior high. I remember making my own magazine for a class project. I loved taking pictures and making special memories using photos and crafting materials. In high school, art was my favorite subject. I also remember loving to entertain and setting a beautiful table for a dinner party with my mom when she would host. I loved fashion.
However, I never knew I loved interior design until after I graduated from college with a liberal studies degree and the intention of going into elementary education. I guess deep down I never had a true desire to become a teacher. But, at the same time, I never really had a true understanding of my career path in general, until I was presented with an opportunity in interior design. Thanks to working at Hampton Place Interiors with Judy Hampton and her staff for three years, I finally found my true calling! The time spent as Judy's assistant was truly how I became interested in interior design!
BL: What do you enjoy most about interior decorating?
BB: The most rewarding part of design, for me personally, is the end result. I enjoy the process leading up to install day, but I think witnessing the space come to life and looking back at the before pictures to see the true transformation is so fulfilling for not only myself, but my client as well.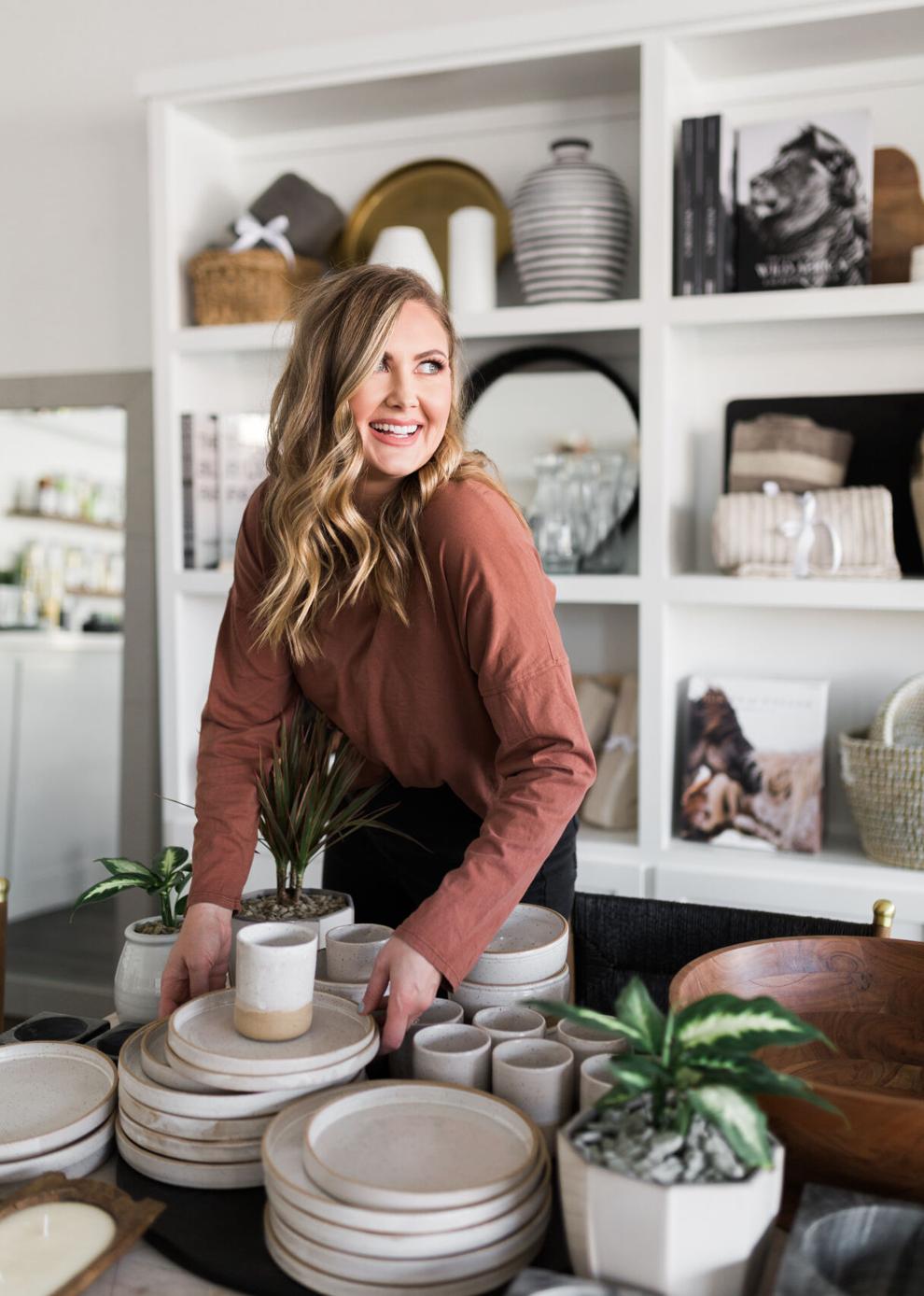 Photo by Jvarnerphoto

BL: How would you describe your style?
BB: I feel like this is always a hard question to answer. I would technically say I fall under the category known as transitional: the marriage of traditional and contemporary furniture, finishes, materials and fabrics equating to a classic, timeless design. Furniture lines are simple yet sophisticated, featuring either straight lines or rounded profiles.
However, I would also say I pull a slight Bohemian aesthetic by incorporating lots of live plants, accessorizing with woven baskets and trays and mixing textures/prints. With all that said, I truly want the client's home to reflect their personal aesthetic with just a hint of Bratcher Home. I have the resources to design most any style.
BL: Who is your favorite designer?
BB: I can't seem to pick just one, so I'll give you my top two! Shea McGee with Studio McGee and Amber Lewis with Amber Interiors are my most inspirational designers. I have followed both accounts on Instagram for several years now! I think their personal styles are beautiful, and their career growth is amazing to watch.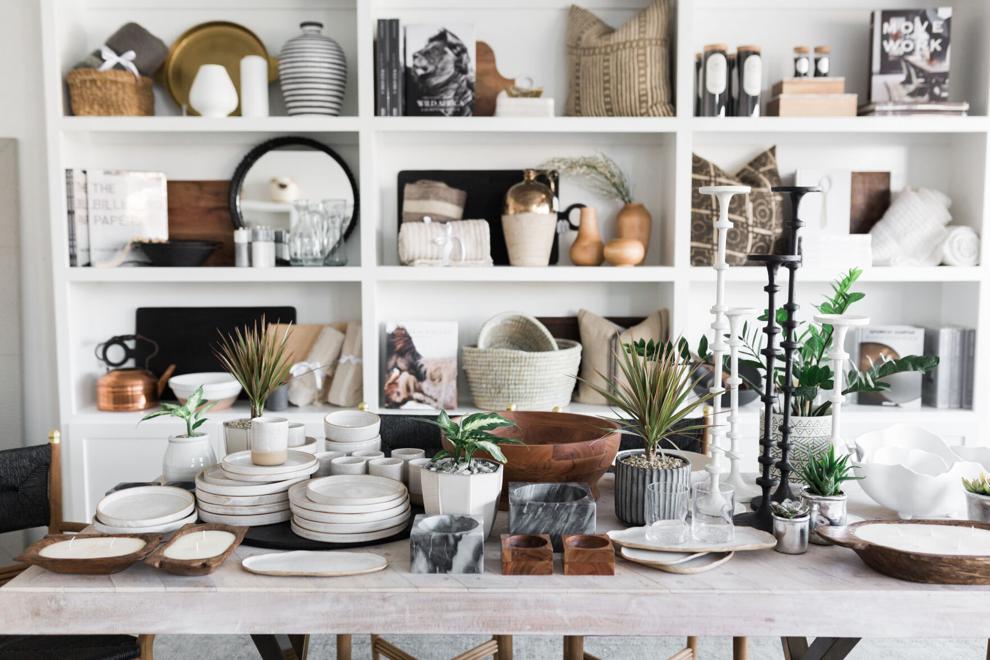 Photo by Jvarnerphoto

BL: Which design trends are you most excited about this spring?
BB: Springtime is one of my favorite times of the year. I love the change in weather and truly believe in the concept of "spring cleaning"!
I'm not sure if there is a major spring trend that I can provide you with, but I can definitely educate you on some go-to springtime tips and tricks.
First, think light and bright. Consider putting away any throw pillows that seem to pull darker tones and bring out the ones that pull lighter tones. Swap out your winter scented candles for fresh and airy candles. Bring in spring flowers such as tulips, daffodils and roses. I suggest placing arrangements on your entry table, kitchen island, coffee table, bedside table or bathroom. Be sure to open your blinds every morning and let the natural light shine in your spaces. Open the windows and feel the fresh air and cool breeze. Clean out and organize your food pantry and personal closet — this brings peace and joy (once it's completed!). Give your house a fresh curb appeal by planting seasonal flowers or planting a new tree that blooms through spring/summer!
BL: Where do you go to get new ideas and inspiration?
BB: I usually jump on Instagram or Pinterest for a quick on the spot idea! However, I still love browsing magazines and taking inspo from the pages. I also think traveling is a great way to gain new inspiration and ideas. Every time I go somewhere, I try to keep my eyes open to different elements of design. I will take pictures to reference back on as needed.
BL: Who inspires you outside of the interior design world?
BB: I am inspired by other women entrepreneurs, especially mothers, who show up everyday and give it their all! I love watching other women follow their dreams of owning their own business. Starting a new business is no easy task; it takes patience, dedication, passion, time, money and emotional strength. Motherhood is no easy task either; it takes patience, dedication, love, time, money and emotional strength. When you put the two together, you ultimately have a heavy load on your hands. I've learned over the years that it's OK to give yourself grace. Mom guilt, spouse guilt and business owner guilt are real, but that is when emotional strength comes in for us women entrepreneurs with a family!

Photo by Jvarnerphoto

BL: What are your tips for decorating with bold colors?
BB: Bringing in a bold color can be fun! Here are a few tips for you to keep in mind.
You decide what colors! Please don't feel obligated to go with a trend, unless the current colors on trend speak to you personally! These colors need to bring you joy and make you smile. For example, ever since I can remember, my favorite color is a bluish-green or teal. So naturally, I gravitate to hues of blue and green in the color spectrum wheel.
A few places to consider using a bold color could be your kitchen island paint color, throw pillows on a lighter colored sofa, area rug beneath your bed, upholstered bed in a kids room, wallpaper in a powder bath, artwork on your dining room walls, drapery panels in your living room or a tile on your kitchen floors or backsplash.
When you decide to use a bold color, there tends to be this fear of "getting sick of it," and maybe that will happen, but maybe it won't! So until you try it, you'll never really know. Go bold or go home!
BL: Favorite materials and texture?
BB: I love working with performance fabrics. These fabrics are highly sought after by almost all of my clients. Considering most households are filled with kids, pets, red wine, juice boxes and snacks, a "kid proof" fabric is highly desirable when placing an upholstered sofa, chairs, bed, dining chair or barstool order. I also love working wallpapers and wood panelling. Adding texture to a wall will completely transform a space in the most wonderful way!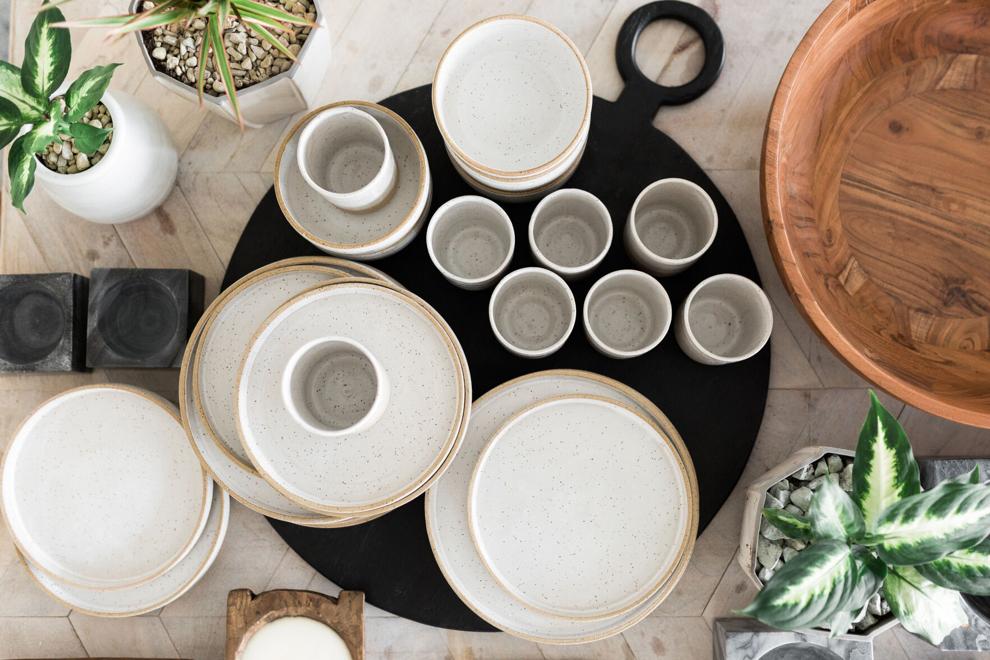 Photo by Jvarnerphoto

BL: What's the most treasured item in your own home?
BB: Probably my 9-by-12 hand knotted antique rug. I have owned it for about nine years. Currently, it rests beneath my upholstered bed in the master bedroom. However, in my previous home, it was positioned under the sectional in my living room. These rugs are more of an investment piece, considering they are on the higher end price point.
BL: Where are some of your favorite places to shop for home decor?
BB: I feel like this is another hard question to answer. Now that I have expanded into a retail shop, I have access to almost any company in the design industry and don't really shop around town or online for home decor. So to answer this question, my favorite place to shop home decor is at Bratcher Home!
BL: Does your current home look like the one you grew up in?
BB: Yes and no. I grew up in a traditional two story 1930s home in La Cresta, and now live in a small neighborhood in the worthwest that was built in the mid-90s, so that differs. However, they were both fixer uppers and not new construction.
My mom and I do have similar interior and exterior design preferences, but all in all I would have to say, no it doesn't look like the home I grew up in as a kid.
BL: Can you remember the first space that really made an impact on you?
BB: The first space that really made an impact on me would have to be a dining room project that was completed about six years ago. This project had several design challenges!
First, the room was originally intended to be the garage, but took a turn and ended up part of the house. Therefore, the size of this room was much wider than your traditional dining room (imagine the size of a standard two-car garage). Then, the client wanted to utilize an existing antique buffet dining table and six chairs, an upright piano and a vintage crystal chandelier with coordinating table lamps, all handed down by her mother who had passed. These items had sentimental value to my client. However, the overall goal was to complete the space by incorporating new pieces to complement and keep the integrity of the existing furniture.
After doing some research, I came up with a plan. I decided to bring in a beautiful dark blue grasscloth to all the walls. I added a set of upholstered wingback captain's chairs for added seating to her existing dining set and recovered the fabric seats of the original six chairs. I found two beautiful oversized custom painted display cases, paired side-by-side, to showcase the client's sentimental figurines, dishware and glassware. I ordered a beautiful area rug to warm the space. I filled one wall with a set of three full length arched mirrors to reflect the natural light off the windows from across the room. I sourced a beautiful set of six botanicals in vintage inspired frames to place above the buffet. Lastly, I incorporated custom woven Roman shades to complete the room.
I was able to accomplish the initial goal and the client was pleased with the outcome of the project.
BL: What qualities do you look for when choosing furniture and accessories?
BB: I look for quality and craftsmanship, especially in upholstered and casegood products. I look for fabric and wood finish customization options. I look for style variety — some clients want traditional, some want mid-century, some want contemporary and everything in between. Lastly, I look for local artisans to help support small businesses in our community.
BL: What qualities do you most admire in a room?
BB: I love when the scale of everything is on point. Scale might be a personal preference. However, when I walk into a room and feel the furniture has been placed strategically and proportionately, I get excited! This usually means the homeowner takes pride in each piece, and it was placed with thoughtful intention.
BL: What are your favorite decorative items when styling a home?
BB: Live plants in beautiful containers, substantial and quality table lamps and oversized coffee table books of interest to the client.
BL: Bold hues or subtle neutral colors?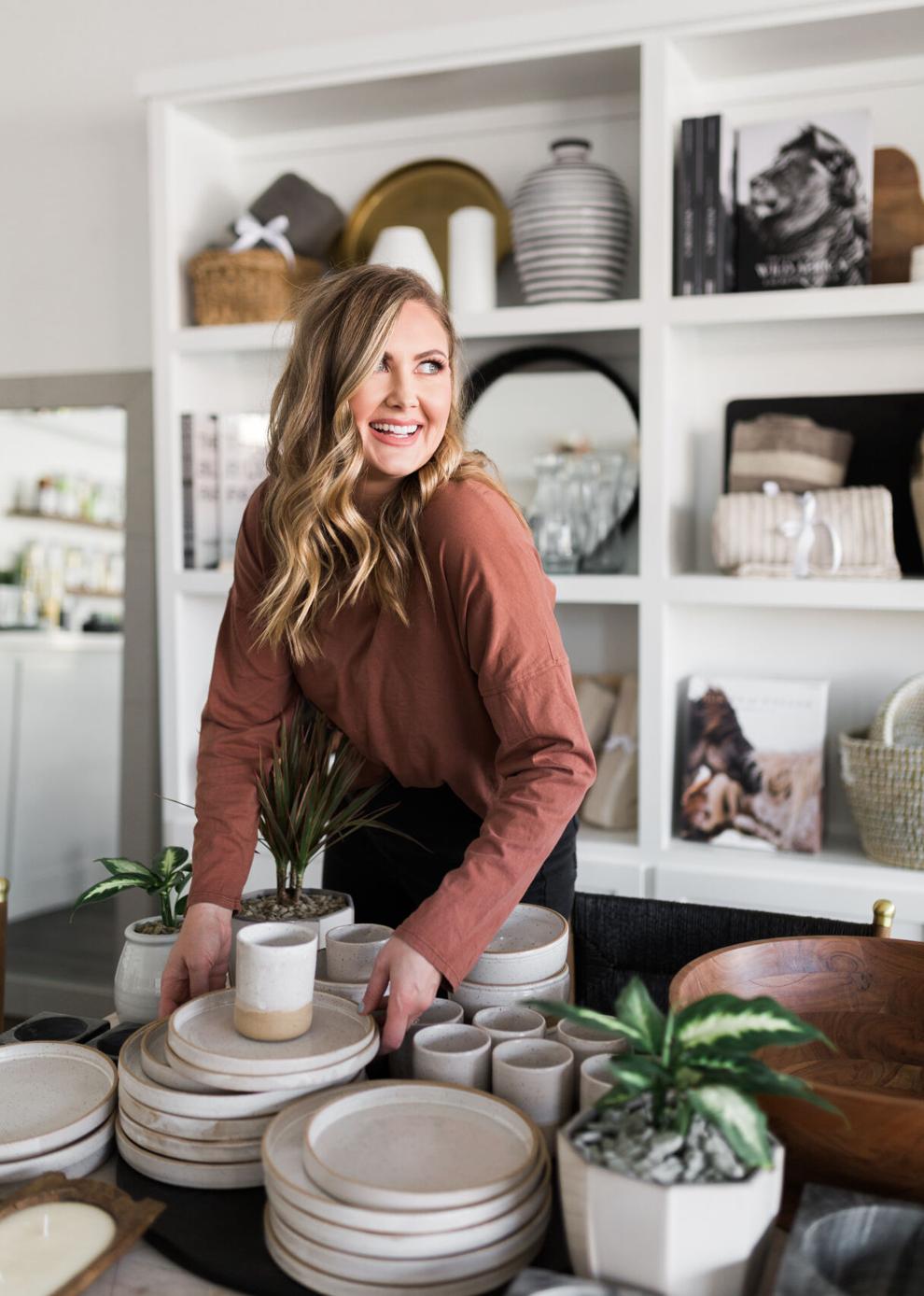 Photo by Jvarnerphoto

BL: What's the best interior design lesson you've learned?
BB: Less is more. Personally, I believe this to be true. It doesn't mean you have to live without the things you love, but rather making the things you love shine in a brighter way! Sometimes, clients have too much "stuff" and we will need to weed out the necessary from the unnecessary in that specific space. Then, I can proceed to design accordingly, ensuring each item added to the space serves a purpose and brings value.
BL: What advice would you give to others who are redesigning their spaces during any season?
BB: Stay true to the colors, bold or neutral, that speak to you. Splurge on upholstery, lighting and artwork. Hire subcontractors if you are not a DIY person. Avoid impulse purchases, and instead start with a visual and financial plan. Don't ask everyone's opinion, they all have something different to say and you'll get more confused. Find inspirational photos to help keep you on track with your end vision. Painting walls provides an affordable impact. Purge and donate the things you no longer want or need. And remember to have fun!